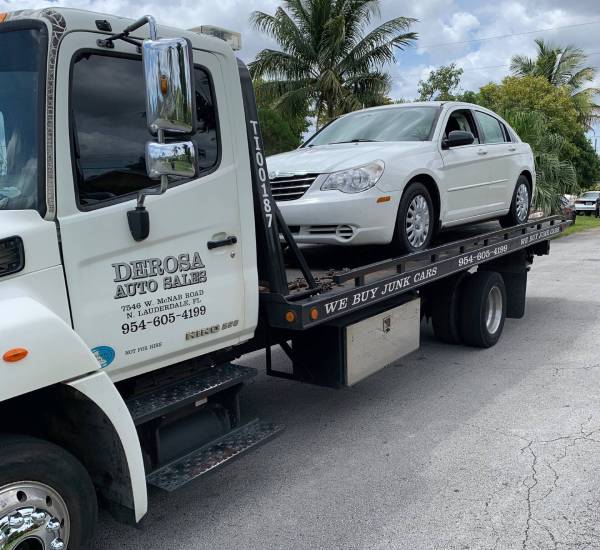 Quick and Hassle-Free Junk Car Sales and Removal
DeRosa Auto Sales will buy your old, used, damaged, and totaled vehicles at a fair price. After you talk to our team, we will come to your location and purchase the car with cash. We'll also tow the vehicle for free so you can earn money from your home.
More Cash for Your Junk car
We pay the most cash of all the junk car dealers in Pompano Beach, making us the ideal choice for anyone who wants to sell their unwanted vehicles. Our business can buy cars at a high price because of our simple purchasing process.
There are no extra levels, steps, or middlemen in our process. We buy the cars and tow them ourselves, which allows us to maximize the value we get from our purchases.
Additionally, we can offer better prices if you bring your vehicle to our shop, since we pass on the savings on gas and towing costs to you.
Trade Your Junk CAR for a Nice Payday
Contact us with your car's year, make, and model to get a quotation in less than two minutes. We'll offer you a fair and honest price for your vehicle. Our team can tow your car and pay you within an hour of our conversation.
Cash for Junk Cars Pompano Beach
Welcome to Junk Car Dealers in Pompano Beach. Junk Cars Dealers in Pompano Beach is in the business of buying junk cars for cash in Pompano Beach. We pay cash for junk cars in Pompano Beach. We offer free towing. We buy any type of vehicle, car, truck, van, or SUV in any condition, old, wrecked, damaged, or broken down. Not only do we provide free junk car removal in Pompano Beach and pay the most cash for junk cars in Pompano Beach, our junk car removal service is quick and easy. No Keys? No Title? No Problem! Call (954) 605-4199.
We will come to you, pay you cash on the spot and take away your junk car free of charge. We always pay the most cash for junk cars in Pompano Beach, and remove your junk car and pay you cash money that same day. The amount of cash money we pay you for your junk car in Pompano Beach depends on the year, make, model and condition of your junk car. Telephone or email Junk Car Dealers now for a free quote, it takes less than 2 minutes to sell your junk car in Pompano Beach and get cash money in your hand today!
Local Pompano Beach Junk Car Buyers
Call Junk Car Dealers when you're ready to sell your unwanted vehicle. Most important is we can pay you more cash because we're in your neighborhood. This means less gas and less wear and tear on our tow trucks which makes it easier for us to do business with anyone looking to sell their junk car in Pompano Beach.
Another huge advantage is that we can pick up your junk car the same hour that you call. No matter what time you need your junk car removed in Pompano Beach we can make it convenient with your schedule.
So don't get stuck with one of these online junk car buying sites that sell their leads to local towing companies and part time junk car buyers that have to reduce the amount of cash they'll pay you for their junk cars because they have extra levels in the junk car selling process. Deal direct with your local Junk Car Dealer junk car buyers and get paid top dollar for your junk car and get the fastest, easiest junk car selling experience in town.